Come Stay Our House
Hui! That's what we Hawaiians say when we are casually calling someone. Hui (Hew eeeee). E komo mai, we would like to welcome you to our house (proper) in local Hawaiian pidgen english we say " Hui! Come stay our house!."
Brian and I spend a lot of time traveling on Cruise Ships. As Ambassadors of Aloha, we work as entertainers, teachers of ukulele, hula and Polynesian crafts. We also lecture on all things Hawaiian and Polynesian. Hence, we are not living in our home 365 days a year. Let us share our home with you.
We live on the Big Island, or Hawai'i Island to be more proper. We live on the western side (leeward) of the island about the middle of that coast. We are on the "dryside". 
It's wonderful to sit on the lanai, beverage in hand and feel the tropical breezes blow.Those of you who have watched Aloha Alive have been on the lanai with us!  We make every effort to be eco friendly without sacrificing luxury, hence our house is solar powered! The house is a three bedroom home, with two bathrooms. The master bedroom houses a California King size bed. The second bedroom has a queen size bed, and the last room has two twin size beds. If needed, the couch pulls out into a bed as well (however there is an additional charge when exceeding 6 guests). Our home comes equipped with all linens, towels and pillows. The kitchen has pots, pans, dishes, glasses and coffee mugs. There is even a rice cooker, coffee grinder, food chopper, waffle maker, crock pot, mixer and other small appliances for you to use. The spice cabinet is full too! You will have enough toilet paper and paper towels to get you started. After that, you are on your own for those personal hygiene items. 
You will also find beach towels, a few beach chairs, snorkel gear and wave boards. Yes, you may pick flowers for your hair! 
It's happening all year round!
Due to the beauty and the wonderful weather we experience, there are events all year round. Kona hosts several fishing and surf contests annually. On the Island you will also find several cltural events throughout the year. Rodeos, Craft Fairs, Canoe races, Music festivals, an Ukulele festival and more. 
Here is a good resource click here.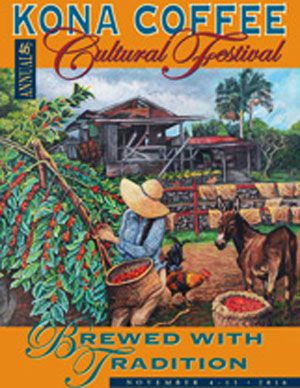 Our house is located:

3/4 miles to Ocean

1 mile to the heart of Kona Town

7 miles to Keahole Airport

2,5 miles to the nearest Grocery Store

2 miles to best snorkeling on island

2.4 miles to Hawaiian Quilt Museum

46 miles to Volcano National Park

58 miles to Hilo Town
Our house is located in Kailua Kona approximately 2 miles from  the heart of town and 3 blocks from the beach, which you can see from the house. It houses 3 bedrooms and 2 baths. The spacious living room welcomes you and the kitchen invites you to cook a leisurly meal. There are many small appliances and spices for you to use. 
As you sit on the side lanai, the tropical breezes will caress you as you relax. Watching the sunset with a beverage in your hand can take your breath away. The lanai directly off the kitchen is perfect place to experience the clear crisp mornings as the sun lights the sky. 
We hope you feel as welcome in our home as we do. It is the perfect place to bring the family and experience a "taste" of Hawaii outside of the tourist zone. 
Living Room
Dining Room
Kitchen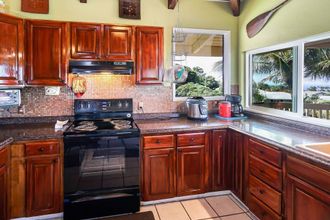 Bedrooms and Bathrooms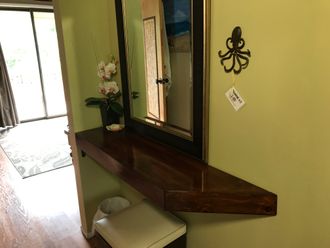 Bedrooms 2 & 3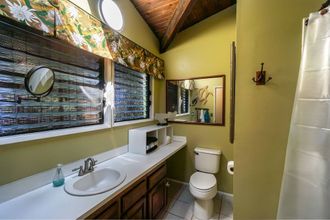 Back Lanai & Side Lanai